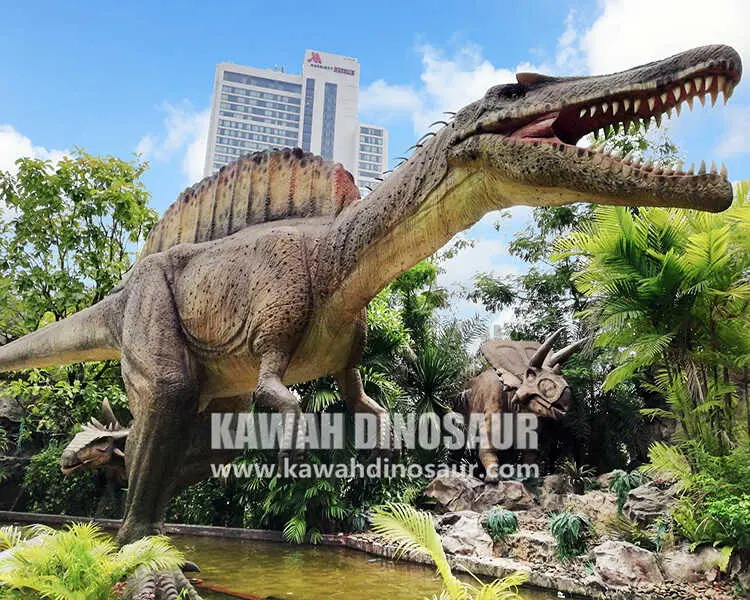 WHAT'S AN ANIMATRONIC DINOSAUR?
The simulated animatronic dinosaur product is a model of dinosaurs made of steel frames, motors, and high-density sponges based on the structure of dinosaur fossils. These lifelike animatronic dinosaur products are often displayed in museums, theme parks, and exhibitions, attracting a large number of visitors. Realistic animatronic dinosaur products come in various shapes and types. It can move, such as turning its head, opening and closing its mouth, blinking its eyes, etc. It can also make sounds and even spray water mist or fire.
The realistic animatronic dinosaur product not only provides entertainment experiences for visitors but also can be used for education and popularization. In museums or exhibitions, simulation dinosaur products are often used to restore scenes of the ancient dinosaur world, allowing visitors to have a deeper understanding of the distant dinosaur era. In addition, simulation dinosaur products can also be used as public educational tools, allowing children to experience the mystery and charm of ancient creatures more directly.
Animatronic Dinosaurs Features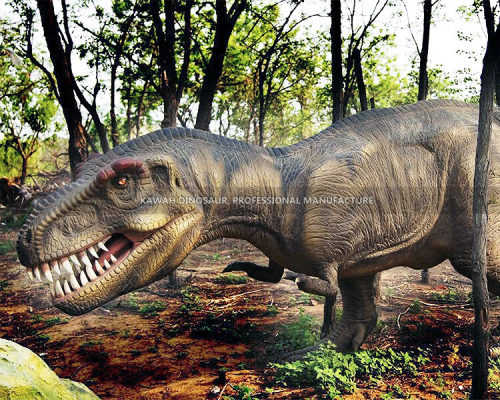 * Highly simulated skin textures
We need realistic dinosaur motion and control techniques, as well as realistic body shape and skin touch effects. We made animatronic dinosaurs with high-density soft foam and silicon rubber, giving them the real look and feel.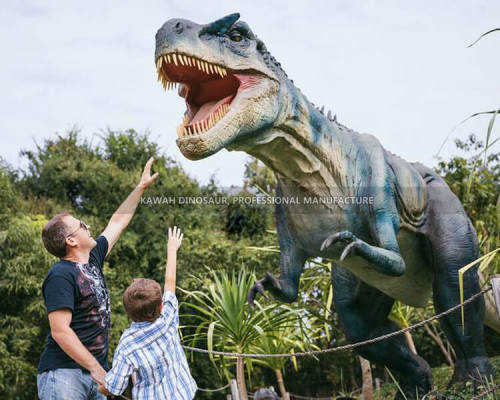 * Better interactive entertainment and learning experience
We are committed to offering entertainment experiences and products. Visitors are eager to experience the wide range of dinosaur-themed entertainment products.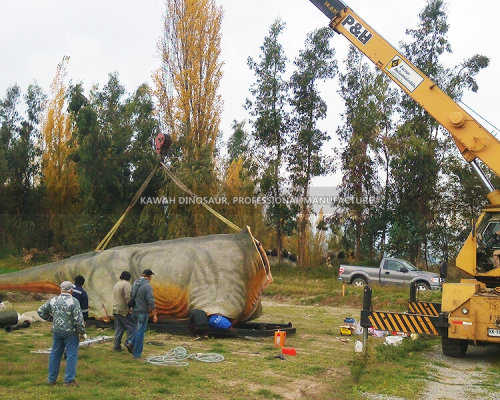 * Can be disassembled and installed for repeated use
The animatronic dinosaurs can be disassembled and installed many times, Kawah installation team will be sent for you to assist install at the site.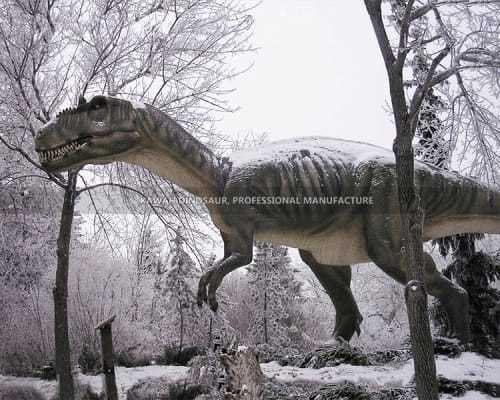 * High or low temperature resistance
The animatronic dinosaur's skin will be more durable. Anti-corrosion, good waterproof performance, high or low-temperature resistance.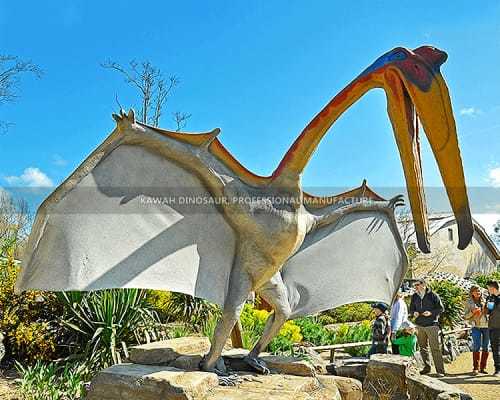 * Custom made service
We are willing to customize products according to customers' preferences, requirements, or drawings.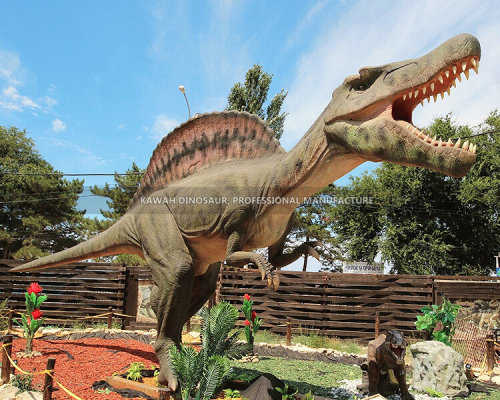 * High reliability control system
Kawah quality control system, strict control of each production process, continuously testing more than 30 hours before shipment.
Animatronic Dinosaurs Display
Animatronic dinosaurs are suitable for various occasions, such as Dinosaur parks, Zoo parks, Theme parks, Amusement parks, Restaurants, Business activities, Real estate opening ceremonies, Playground, Shopping malls, Educational equipment, Festival exhibition, Museum exhibition, City plaza, Landscape decoration, etc.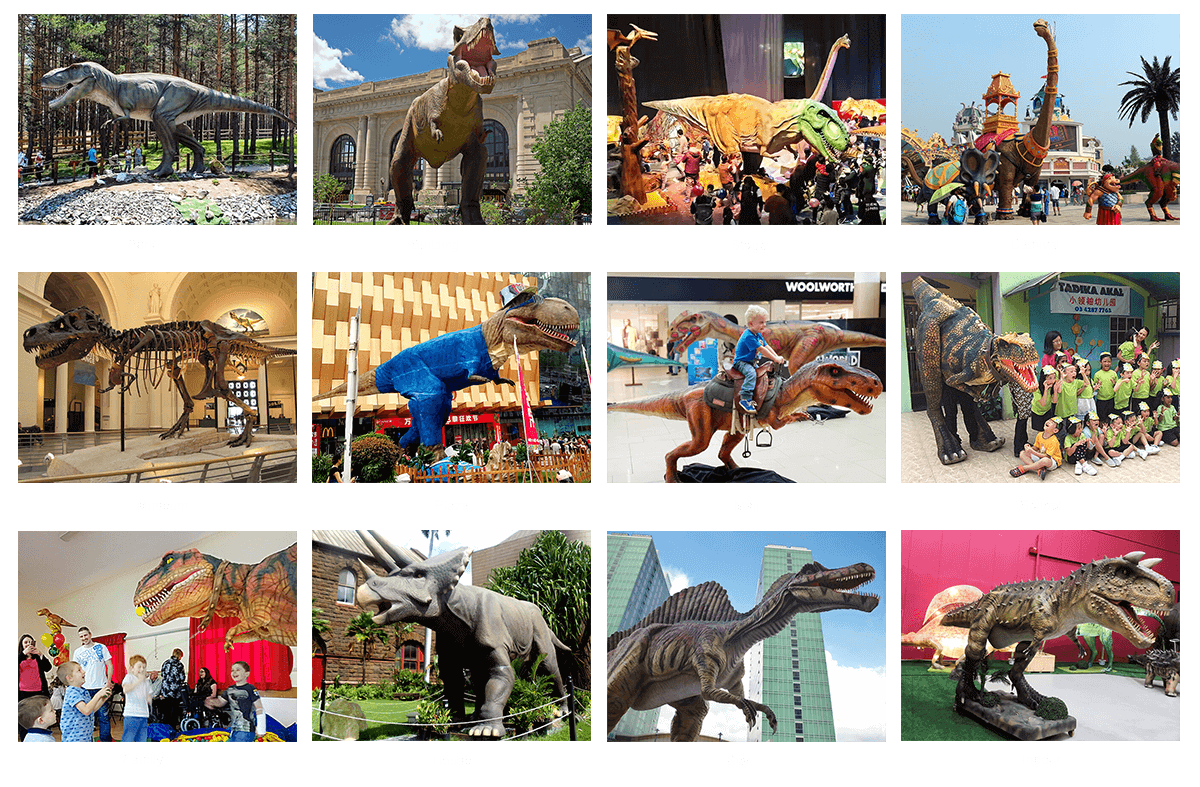 Size: From 1m to 30m long, other size is also available.
Net Weight: Determined by the size of the dinosaur (eg: 1 set 10m long T-rex weighs close to 550kg).
Color: Any color is available.

Accessories:

Control cox, Speaker, Fiberglass rock, Infrared sensor, etc.
Lead Time:15-30 days or depends on quantity after payment.
Power: 110/220V, 50/60hz or customized without extra charge.
Min. Order Quantity: 1 Set.
After Service: 24 Months after installation.
Control Mode: Infrared sensor, Remote control, Token coin operated, Button, Touch sensing, Automatic, Customized, etc.

Usage:

Dino park, Dinosaur world, Dinosaur exhibition, Amusement park, Theme park, Museum, Playground, City plaza, Shopping mall, Indoor/outdoor venues.
Main Materials: High-density foam, National standard steel frame, Silicon rubber, Motors.
Shipping: We accept land, air, sea transport, and international multimodal transport. Land+sea(cost-effective) Air(transport timeliness and stability).
Movements: 1. Eyes blinking. 2. Mouth open and close. 3. Head moving. 4. Arms moving. 5. Stomach breathing. 6. Tail swaying. 7. Tongue Move. 8. Voice. 9. Water spray.10. Smoke spray.
Notice: Slight differences between the objects and the pictures because of handmade products.
Dinosaur Manufacturing Process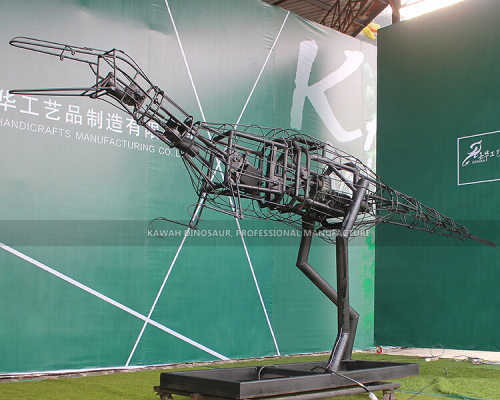 1. Framing
* Kawah factory national standard steel frame and brushless motor to ensure the dinosaur can use for many years.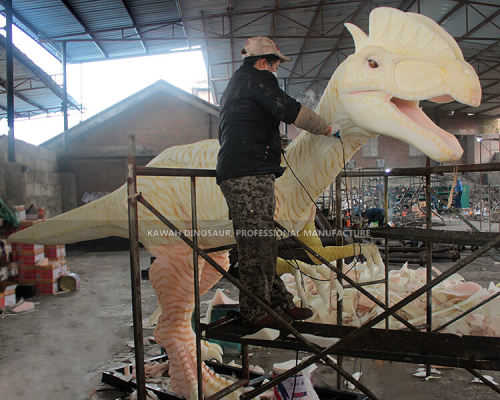 2. Modeling
* High-density foam ensures the dinosaur model is more meticulous.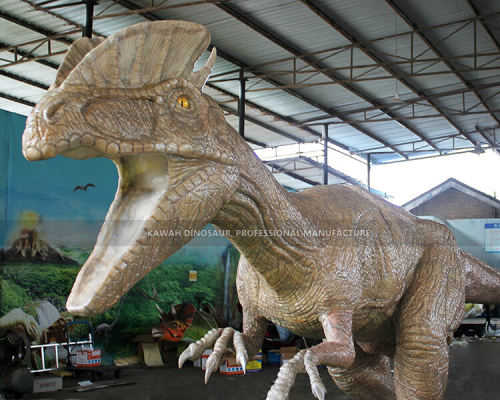 3. Carving
* Kawah professional carving team has more than 10 years of experience, perfect dinosaur body proportions.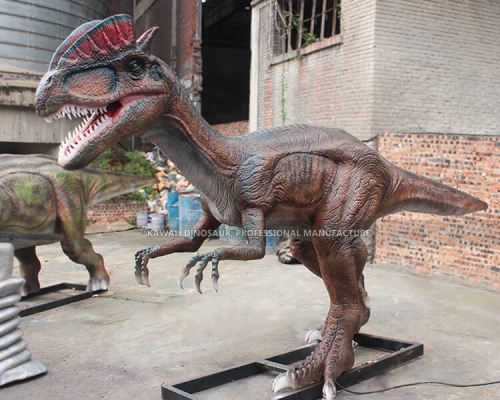 4. Painting
* Colors according to customer's requirement, any color is available.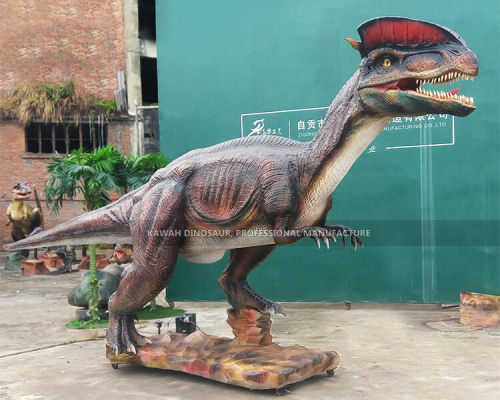 5. Testing
* Kawah quality control system, continuously testing over 30 hours before shipment.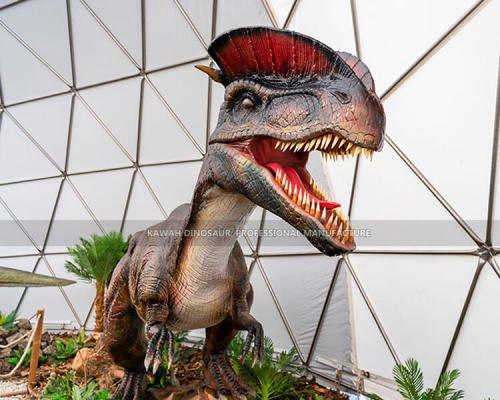 6. Display
* Dino park, Dinosaur World, Dinosaur exhibition, Amusement park, Theme park, Museum, City plaza..
Animatronic Dinosaur Video
7M Animatronic Brachiosaurus
6M Animatronic Dragon Customized
Frequently Asked Questions
The simulated dinosaur is a dinosaur model made of steel frame and high-density foam based on actual dinosaur fossil bones. It has a realistic appearance and flexible movements, allowing visitors to feel the charm of the ancient overlord more intuitively.
a. If you are interested in our products, you can call us or send an email to our sales team, we will reply you as soon as possible, and send relevant information to you for selection. You are also welcome to come to our factory for on-site visits.
b. After the products and price are confirmed, we will sign a contract to protect the rights and interests of both parties. After receiving the 30% deposit of the price, we will start production. During the production process, we have a professional team to follow up to ensure that you could clearly know the situation of models. After the production is finished, you can inspect the models through photos, videos or on-site inspections. 70% balance of price need to be paid before delivery after inspection.
c. We will carefully pack each model to prevent damage during transportation. The products can be delivered to the destination by land, air, sea and international multimodal transportation according to your needs. We ensure that the entire process strictly fulfills the corresponding obligations in accordance with the contract.
Yes. We are willing to customize products for you. You can provide relevant pictures, videos, or even just an idea, including fiberglass products, animatronic animals, animatronic marine animals, animatronic insects, etc. During the production process, we will provide you with photos and videos in every stage, so that you can clearly understand the manufacturing process and production progress.
The basic accessories of the animatronic model include: control box, sensors (infrared control), speakers, power cords, paints, silicone glue, motors, etc. We will provide spare parts according to the number of the models. If you need additional control box, motors or other accessories, you can note to the sales team in advance. Before the mdoels are shipped, we will send the parts list to your email or other contact information for confirmation.
In general, our payment method is a 40% deposit for the purchase of raw materials and production models. Within one week of the end of production, the customer needs to pay 60% of the balance. After all payment is settled, we will deliver the products. If you have other requirements, you can discuss with our sales.
When the models are shipped to the customer's country, we will send our professional installation team to install (except special periods). We can also provide installation videos and online guidance to help customers complete the installation and put it into use faster and better.
The warranty period of animatronic dinosaur is 24 months, and the warranty period of other products is 12 months.
During the warranty period, if there is a quality problem (except for man-made damage), we will have a professional after-sales team to follow up, and we can also provide 24-hour online guidance or on-site repairs (except for special periods).
If quality problems occur after the warranty period, we can provide cost repairs.
The delivery time is determined by the production time and shipping time.
After placing the order, we will arrange production after the deposit payment is received. The production time is determined by the size and quantity of the model. Because the models are all hand-made, the production time will be relatively long. For example, it takes about 15 days to make three 5-meter-long animatronic dinosaurs and about 20 days for ten 5-meter-long dinosaurs.
The shipping time is determined according to the actual transportation method selected. The time required in different countries is different and is determined according to the actual situation.
The packaging of the product is generally bubble film. The bubble film is to prevent the product from being damaged due to extrusion and impact during transportation. Other accessories are packed in cartons box. If the number of products is not enough for a whole container, LCL is usually selected, and in other cases, the whole container is selected. During transportation, we will purchase insurance according to customer requirements to ensure the safety of product transportation.